Early Years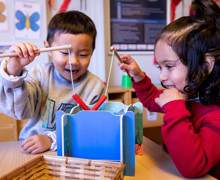 Our Early Years is located in Van Dyck Villa. Throughout the Pre-School and Pre-Primary classes, we follow the UK National Curriculum and the IPC (International Primary Curriculum), which promote experiential learning with a play-based approach in a structured thematic environment. We truly believe that the best recipe for success is to ensure that every child is happy and secure in the Early Years.
Pre-School - ISF offers lessons in English, French & Dutch.
Pre-School is for children aged 2.5 – 4 years. In Pre-School, the emphasis is on active learning through an exciting range of opportunities and experiences in free-flowing, stimulating indoor and outdoor environments. In our Pre-School, parents also have the opportunity to expose their children to a range of learning activities in English, French and Dutch, helping to develop bilingual children from an early age.
Pre-Primary is for children aged 4 – 5 years. In Pre-Primary, we use an inquiry-based, fun approach to learning, encouraging each child to become an independent thinker in a well structured and creative environment.
IPC in Early Years:

Early Years follows the International Primary Curriculum for Early Years. This is an internationally oriented program based on thematic units. The children follow a two-year program, covering four different IPC Units each year, such as Sand & Water, All About Me, Bears, Plants & Flowers, Animals, Clothes, and Patterns.
Outdoor Learning:
O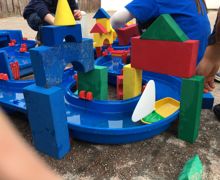 ur Pre-School and Pre-Primary children also benefit from engaging lessons in our outdoor classroom. Playing and learning outside allows our children to learn about nature and develop respect for the world around them. It also encourages positive health benefits, develops fine and gross motor control, and allows children to develop a life-long love of being outdoors.
Specialist Subjects:
Children visit the library every week and also enjoy the following specialist subject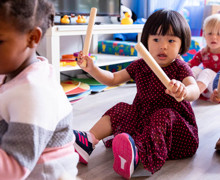 lessons:
French
Dutch
Music
Sport
Educational Apps on Tablets/Computers