Early Years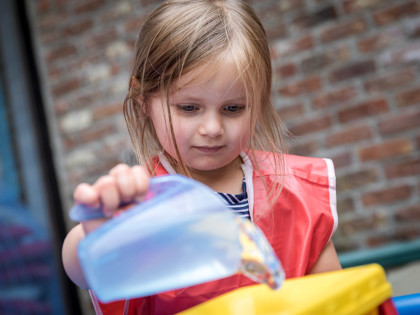 Our Early Years is located in building No 3. Throughout the Pre-School and Pre-Primary classes we follow the general principles of the UK National Curriculum and the IPC (International Primary Curriculum) which promote experiential learning with a play-based approach in a structured thematic environment. In the Early Years we truly believe that the best recipe for success is to ensure that every child is happy and secure.
We bieden onze studenten leeractiviteiten aan in het Engels, Frans en Nederlands.
Pre-School - ISF offers lessons in English, French & Dutch
Pre-School is for children aged 2.5 – 4. In Pre-School the emphasis is on active learning through an exciting range of opportunities and experiences in free flowing, stimulating indoor and outdoor environments. In our Pre-School, parents also have the opportunity to expose their children to a range of learning activities in English, French and Dutch, helping to develop bilingual children from an early age.
Wetenschappelijk onderzoek toont aan dat meertalige opvoeding vanaf jonge leeftijd een gunstige invloed heeft.
Pre-Primary
Pre-Primary is for children aged 4 – 5. In Pre-Primary we use an inquiry-based, fun approach to learning, encouraging each child to become an independent thinker in a well structured and creative environment.
IPC in Early Years:

Early Years follows the International Primary Curriculum for Early Years. This is an internationally oriented program based on thematic units. The children follow a two-year program, covering four different IPC Units each year such as Sand & Water, All About Me, Bears, Plants & Flowers, Animals, Clothes and Patterns.
Nos élèves développent leurs compétences linguistiques par le biais d'un éventail de différentes activités d'apprentissage, y compris des expériences divertissantes dans notre classe en plein air.
Outdoor Learning:
O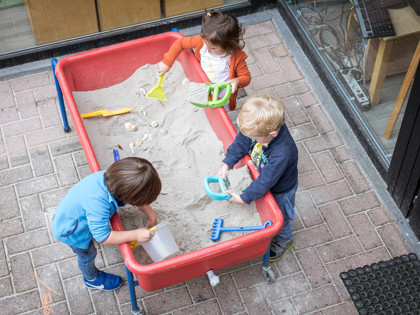 ur Pre-School and Pre-Primary children also benefit from engaging lessons in our outdoor classroom. Playing and learning outside allows our children to learn about nature and develop respect for the world around them. It also encourages positive health benefits, develops fine and gross motor control and gives children the opportunity to develop a life-long love of being outdoors.
Specialist Subjects:
Children visit the library every week, and also enjoy the following specialist subject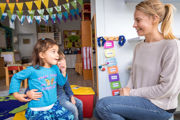 lessons:
French (twice a week), Music (twice a week), Sport ( several times a week),
Educational Apps on Tablets/Computers to enrich learning (3 times a week)