Leadership Team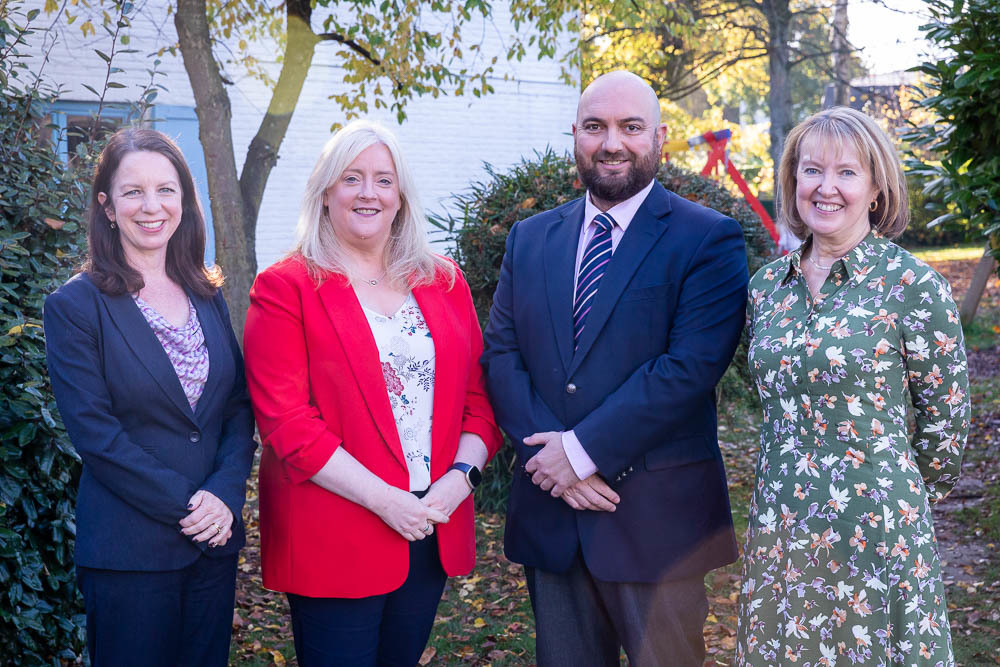 From left: Belinda Yates, Órla Mc Loughlin, Cobus Steyn, and Julie Boyd
Belinda Yates, Executive Head, has 30 years of experience working in Education in Australia and Belgium. Belinda speaks English and Flemish and holds degrees from Deakin University, Australia, and a Masters in Educational Leadership from the University of Buckingham, United Kingdom. In November 2017, Belinda was selected to participate in the High-Performance Leadership Programme at Oxford University Business School. Belinda has a passion for integrating technology in schools and co-founded the Google Education Group for schools in Belgium, which she is currently leading. In 2015, she and her team received an award for Outstanding Project Management Skills from the Project Management Institute of Belgium for delivering 'Project Ignition', the Google for Education transformation program. Belinda guides her leadership team on both school campuses, in Waterloo and Tervuren, and the Daycares on each site, and develops the school strategic planning. She also leads the school's Health and Safety Committee and Professional Development for all staff.
Cobus Steyn, Deputy Executive Head, is from South Africa and has worked in numerous countries in Africa, Asia, and Europe over the past 20 years, and held many different leadership roles. Cobus speaks English and Afrikaans fluently and has a working knowledge of Portuguese. As an undergraduate, Cobus read a triple major: Afrikaans, History, and English Literature before completing his teaching qualification in English and History. He then researched a Master of Arts degree and is currently a Doctoral Candidate of the University of Bath. Cobus is responsible for International and External testing, Curriculum, and Academics, and oversees the Secondary School.
Órla Mc Loughlin, Head of Campus in Tervuren, has worked in education in Ireland and Belgium for over 25 years. Órla has been living in Belgium since 1999 and has worked at ISF since 2001, of which the last 8 years have been in leadership roles. Órla speaks French, English, and Irish and has years of experience working with second language learners. Órla is a highly experienced international educator, specialising in Early Years and Primary Education. Órla has a passion for learning and is currently studying for a Masters in Educational Leadership at Portsmouth University. Órla is a Google Certified Educator and was a part of the project management team that introduced Google Technology to school campuses. She is the co-founder and leader of the first GEG (Google Educators Group) in Belgium. This group supports over 700 hundred Belgian educators in the development of technology in their schools. Órla lives with her family in the village of Tervuren and enjoys being part of a diverse community.
Julie Boyd, Deputy Head of Campus in Tervuren, has worked in education for over 30 years, both in the United Kingdom and abroad. After two years of teaching, in the UK, Julie moved to Germany and subsequently to Cyprus, to teach children in Service Children's Schools. Julie taught all the age ranges from Pre-Primary to Year 6 in various school establishments, varying from small village schools to large inner-city schools. Julie graduated from Cardiff University with an Arts Degree and a Postgraduate Certificate in Education (PGCE). Julie has a passion for Art and Crafts and delights in seeing her students being creative. Julie also loves teaching Mathematics and the joy it can bring when students understand and apply the concepts. Julie has two children of her own, and therefore understands the difficulties of having a career whilst raising a family. Julie loves to walk her dog, and she enjoys sports, especially watching football.