Daily Routine
School hours
Primary School
8:55 – 15:30 (Monday - Friday)
Early Years
8:55 – 12:30 - Mornings only (Monday - Friday)
8:55 – 15:30 - Full Day (Monday - Friday)
Pre-School and Pre-Primary students finish at 12:30 every Wednesday
Breaks: Early Years and Primary
Mornings: 10:30 – 11:00
Lunchtimes: 12:30 – 13:30
Before and After School Care
Before and after school is available at an additional cost. The before and after school fee structure is available here.
Mornings: 7:45 – 8:45 Monday - Friday
Afternoons: 15:30 – 17:30 Monday, Tuesday, Thursday and Friday
On Wednesdays after school clubs runs from 12:30 – 17:30
Dress Code
ISF (International School of Flanders) Tervuren does not have a compulsory school uniform. The school provides students with an ISF Tervuren t-shirt for Sports lessons, and parents must provide additional clothing. Additional ISF clothes (polo-shirts and long sleeve sweaters) can be purchased from the office.
Lunches and Food
ISF Tervuren promotes healthy eating!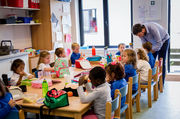 Students should bring a snack for the mid-morning break and lunch. Lunches are eaten in the lunchroom.
ISF Tervuren is a NO NUT school as we have students and teachers with serious nut allergies.