Extra Curricular Activities
Day Trips
School visits to local museums and places of interest are an integral part of our curriculum at all levels. Every class will have an educational trip once a term. We also visit our second campus in Waterloo. These trips allow our children to develop friendships with children in the corresponding class and encourage collaboration opportunities in all curriculum areas.
Residential Trips
We organise Residential trips in the third term of each school year. These are an essential part of the school curriculum. Students develop their social skills by spending time away from home for three days. Residential trips have a separate charge and are not compulsory.
We have four different locations that we visit on a rotation basis. For example - the upper Primary school visit Domaine de Mambaye (http://mambaye.be/fr). Domaine de Mambaye is an outdoor education centre located in Spa, in the Ardennes. It is set in a unique natural environment that allows students to participate in a wide range of sports and nature activities and excursions to caves and historical landmarks.
School Clubs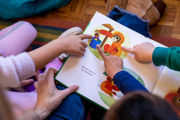 We provide a variety of lunchtime and after-school clubs each half term. These clubs are open to students of all ages and are a small extra cost to parents. We currently offer Netball, Football, Multisport, Book Club, Cooking, Art, Taekwondo, Games Club, Gardening and Lego Robotics.
We also share our facilities with several external organisations, such as the Scouts, Guides, Rainbows, Beavers, Disco Divas and Taekwondo, allowing our students to participate in these activity groups in a familiar environment.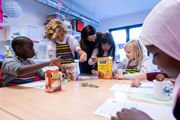 ISF Tervuren also works in partnership with the Castle Club in Wezembeek-Oppem. The Castle Club offers a range of Clubs to ISF families that students can attend on Tuesdays and Wednesday afternoons. They also provide a bus service, collecting children from school and bringing them to their activity at Castle Club.
Swimming
All students from Year 1 to 6 attend swimming lessons for one term per year. Swimming lessons take place at Castle Club on Tuesday mornings.
After School Care
ISF Tervuren also offers a Garderie service for after school care. This service is available each weekday until 5.30 pm. Students can complete homework activities under the teacher's supervision and will then engage in different play and craft activities until collection.
ISF Tervuren Football Club
The PTA at ISF Tervuren also run a weekly Football Club.
We welcome children every Sunday and offer them the opportunity to play football in English in a fun and supportive environment. If you would like more information about our club or would like to join, please contact our club managers at isf-fc@isftervuren.org.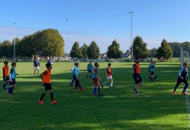 If you would like to join ISF Tervuren Football Club for the school year 2023-24, please click on the link below to complete the application form and order your kit. Groups are restricted to 20 players per group, and places will be awarded on a first-come, first-serve basis. Once the groups are full, names will be added to the waiting list, and places will be assigned should any child leave the club.
Application Form for ISF Tervuren FC.
Primary Choir
Our Primary Choir allows students to develop and practice their performance skills. The choir rehearses once a week and performs at school assemblies. We also participate in the Annual International Primary Schools Choir Day. There is no charge for choir participation.