Daycare and Creche
In April 2017 we launched our second pioneering childcare concept – quickly tagged by the news media as "Neuro Creche".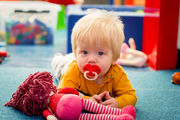 Our first Daycare opened in December 2016 on our Waterloo campus and following its success, our second Daycare was launched in Tervuren. We have incorporated the same innovative concepts and design by "Spacious Minds" (www.spacious-minds.com), a collaboration between Dr Karen Dobkins, a Professor of Child Development at the University of California, San Diego and Dutch designer Roy Verbakel.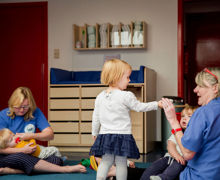 The internal layout, decorations, and equipment are based on scientific research into how the visual stimuli received by babies condition the development of their brains, and our designs optimise that development.
We also employ staff speaking at a minimum English, French and Dutch, so children are exposed to all languages throughout the day, though we invite parents to specify which language they wish us to use with their child – this is also based on proven scientific research showing that early multi-lingualism increases and accelerates brain development.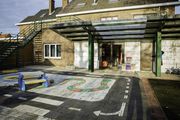 The Tervuren creche is housed in Builing No. 6, and occupies the entirety of the original village nursery school building, but has been renovated, designed and equipped to enhance children's visual stimulus in a scientifically positive way. Our Daycare creche facility receives up to 46 children aged from 6 weeks old, and is open from 06.30 until 18.30. ISF International Daycare is supervised by Kind & Gezin (Flanders' Child & Family agency) and we are committed to the physical and mental well-being of your child. We hire only professional staff, and focus on providing a quality environment and creative learning experiences. For more information, telephone Órla Mc Loughlin on +32 (2) 767 30 98, or email isftervuren@isfdaycare.org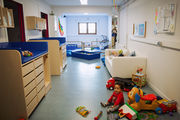 Our Waterloo Daycare & Creche is an extension of our Preschool section, in a beautifully renovated and landscaped part of Oranje House within our existing school campus. This ISF International Daycare creche facility receives up to 15 children aged from 6 weeks old, and is open from 06.30 until 18.30. For more information, see these pages, telephone Nina Jaatinen on +32 (2) 358 5606, or email isfwaterloo@isfdaycare.org