Eco-Schools and Outdoor Learning
ISF is participating in the Eco-schools programme with the goal of being awarded the Green Flag. The Green Flag Award is a visible indication of a school's commitment to Learning for Sustainability and an internationally recognised accreditation with organisations, such as UNESCO, for excellence in sustainable education.
A Green Flag school ensures that we have: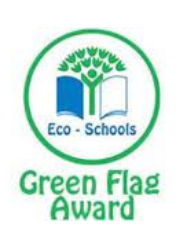 Efficient use of resources

A healthy and green environment

A curriculum that includes ecological issues

Nutritious food

Sustainable community practices
Why become a Green school?
In our ISF mission, we strive to develop students who are life-long learners, adaptable world citizens sensitive to their communities. We believe that making ISF an Eco-Friendly Green school will help us build knowledge, skills, understanding, and positive attitudes in these concepts and issues. The activities such as recycling, planting vegetables and putting animal feeders are pupil-centred, so they are actively involved in making a difference.
What do we do?
Work together as a community towards the Green Flag of the Eco-Schools Programme by following 7 steps.
When creating our Action Plans, they are broken into ten Eco-Schools topics below.
Biodiversity, caring for all plants, animals and insects.

Energy, reducing energy use and investigating greener energy sources.

Global Citizenship, working with others on local and global issues.

Healthy Living, improving mental and physical well-being.

Litter, taking action to reduce litter in your local area and beyond.

Marine, protecting rivers, canals, lakes, oceans and the plants and animals that inhabit them.

School Grounds, enhancing your learning environment.

Transport, travelling in an environmentally-friendly manner.

Waste, refusing, reducing, reusing, repairing and recycling.

Water, protecting our most important natural resource.
We have a weekly ISF community Eco-challenge to raise awareness of environmental issues, and we encourage our whole community to get involved.
Outdoor Learning
ISF is fortunate to have spacious green outdoor areas, and as a result, our students benefit from the opportunity to experience regular outdoor learning activities. We utilise these outdoor areas to extend learning activities and encourage our students to discover and engage with the natural world outside of the classroom. Outdoor learning and play brings many health benefits and encourage children to develop their social and emotional skills, and teaches them empathy, responsibility and creativity.
In addition, our Pre-school has an outdoor area adjoining the classrooms to allow children to explore with water and sand play outdoors. Our planting gardens, composting, and weather stations allow children to learn in nature providing a calming environment for students to build a strong sense of well-being.